HARPFULLY – THE ALBUM (2017)
Now is the time not only to show how varied harp music can be, but also to interpret it in a different way and to give it a new sound. Unconventional, improvised with strong influences from jazz and electronics, interplayed with percussion, saxophone and synthesizers. The HARPFULLY studio album was recorded by Nartan together with his close friends and renowned musicians in the summer of 2017. Their fascination with improvisation combined with the pleasure they had working together reinforced by their long friendship led to the development of a crossover album, which masterfully spans various genres from jazz to electro through to world music.

Nartan_ acoustic & electric harp, synthesizer, piano
Featuring:
Max Castlunger_percussion instruments
Michele Monestiroli_tenor saxophone (on tracks 1 & 8) 
Alex Trebo_synth & piano bass (on track 7)
Marco Stagni_double bass (on track 6 & 11)
Gigi Grata_trombone (on track 10)
Andrea Polato_drums (on track 11)
All tracks composed, produced and mixed by Nartan @ Nartan Records Studio, Merano (BZ) – South Tyrol – Italy
Mastering by Giovanni Versari, La Maestà Mastering Studio
Graphic design by Matteo Savona. Cover photo by Andrea Tedeschi
All rights reserved. Made in Italy (P) & (C) 2017 Nartan Records
"Harpfully" online:
Spotify
https://open.spotify.com/album/2QoHlTPH0aK3zYrW2h2MDD?si=I7AZYvcdRhqXdAR6oi2UYw
iTunes Store
https://itunes.apple.com/it/album/harpfully/1295377613
Google Play
https://play.google.com/store/music/album/Nartan_Harpfully?id=B5nyjetvii246q7itkeskb6txs4&hl=it
Amazon Music
https://www.amazon.it/dp/B076FBRB8D/ref=cm_sw_r_cp_awdb_76NhAbFMAXBR7
Deezer
http://www.deezer.com/album/49844332
Compact Disc Audio CD (Only EU)
http://music.nartan.com/Harpfully
Compact Disc Audio CD (Outside EU)
https://store.cdbaby.com/cd/nartan
Albums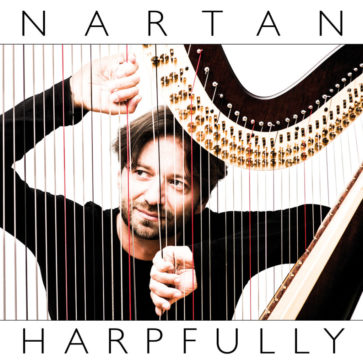 Artist

Nartan

Released

20 October 2017

Genre

Instrumental
All tracks composed, produced & mixed by Nartan in 2017 @ Nartan Records Studio, Merano (BZ) – South Tyrol – Italy.