HARPFULLY – THE ALBUM (2017)
Le moment est venu non seulement de montrer à quel point la musique de harpe peut être variée, mais aussi de l'interpréter différemment et de lui donner un nouveau son. Non conventionnel, improvisé avec de fortes influences du jazz et de l'électronique, en interaction avec des percussions, du saxophone et des synthétiseurs. L'album de studio HARPFULLY a été enregistré par Nartan avec ses amis proches et des musiciens renommés à l'été 2017. Leur fascination pour l'improvisation, combinée au plaisir de travailler ensemble, renforcée par leur longue amitié, a conduit au développement d'un album croisé, qui couvre divers genres allant du jazz à l'électro en passant par la musique du monde.
Nartan_ acoustic & electric harp, synthesizer, piano
Featuring:
Max Castlunger_percussion instruments
Michele Monestiroli_tenor saxophone (on tracks 1 & 8) 
Alex Trebo_synth & piano bass (on track 7)
Marco Stagni_double bass (on track 6 & 11)
Gigi Grata_trombone (on track 10)
Andrea Polato_drums (on track 11)
All tracks composed, produced and mixed by Nartan @ Nartan Records Studio, Merano (BZ) – South Tyrol – Italy
Mastering by Giovanni Versari, La Maestà Mastering Studio
Graphic design by Matteo Savona. Cover photo by Andrea Tedeschi
All rights reserved. Made in Italy (P) & (C) 2017 Nartan Records
"Harpfully" online:
Spotify
https://open.spotify.com/album/2QoHlTPH0aK3zYrW2h2MDD?si=I7AZYvcdRhqXdAR6oi2UYw
iTunes Store
https://itunes.apple.com/it/album/harpfully/1295377613
Google Play
https://play.google.com/store/music/album/Nartan_Harpfully?id=B5nyjetvii246q7itkeskb6txs4&hl=it
Amazon Music
https://www.amazon.it/dp/B076FBRB8D/ref=cm_sw_r_cp_awdb_76NhAbFMAXBR7
Deezer
http://www.deezer.com/album/49844332
Compact Disc Audio CD (Only EU)
http://music.nartan.com/Harpfully
Compact Disc Audio CD (Outside EU)
https://store.cdbaby.com/cd/nartan
Albums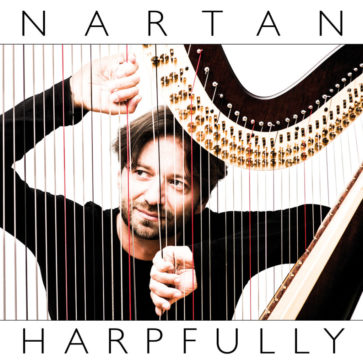 Artist

Nartan

Released

20 October 2017

Genre

Instrumental
All tracks composed, produced & mixed by Nartan in 2017 @ Nartan Records Studio, Merano (BZ) – South Tyrol – Italy.